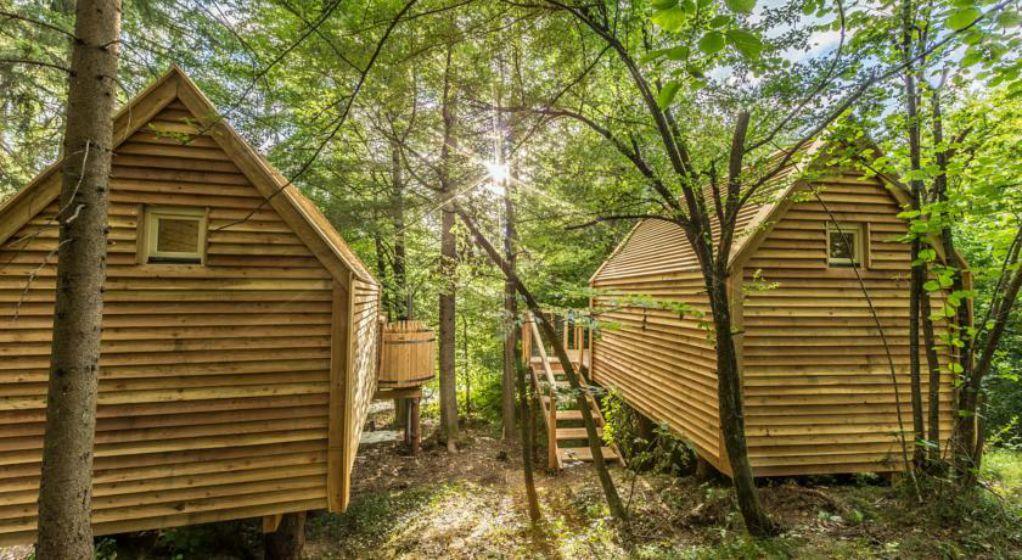 Six comfortable Slovenian homes are nested in an excellent location in Ribno, not far from the biggest Slovenian pearl – lake Bled, between the green spruce trees and blue river Sava.
Each house is named after one of the Slovenian flowers so guests can sleep in Zvončnica, Nagelj, Planika, Lepi čeveljc, Encijan and Šmarnica.
Some of them are tree houses, nestled on spruce trees, while others stand on the ground. These lovely small cabins are all made from local wood by Slovenian craftsmen. They provide nice luxurious home furnishings, a private outdoor shower and a private bathroom, sauna, a common lounge with a fireplace and an outdoor massage parlor with beautiful views. Each cabin is suitable for up to 4 people. Since the homes are insulated and equipped with heating, they are suitable for renting throughout the whole year.
Each house is named after one of the Slovenian flowers
Lovely oasis of wooden cabins provides an excellent starting point for visiting Slovenian mountains, riding the Lipizzaner horses, rowing to the Bled island and trying traditional Slovenian food.
More on: Sportina-turizem.si
Reshare our content with appropriate credit:
- via
Woodz.co
(must include a link to the article)
- if it exists, give h/t (specified at the end of our articles)