OAS1S – a Community Design Project With Houses That Look Like Trees
In
Design
by Anja, February 25, 2019
Living in a city with your house looking like a tree, sounds impossible, right? Well, it may actually become a reality thanks to the Dutch architect Raimond De Hullu.
De Hullu has envisioned a green neighborhood which is set up as an off-grid community entirely powered by renewable energy.  It will have onsite water and waste treatment.  The buildings themselves would be make out of organic insulation material and recycled wood.
It will be an 'urban forest' which would be eco-friendly and self-sufficient
This community would be set up in four-floor buildings that would come with triple glazing windows and solar panels for electricity.  There would be large windows, skylights, and french design balconies.  De Hullu calls this design "a treehouse combined with modern luxury".
The community design projected would be a bit more dense than a suburban neighborhood but not as dense as a commercial district.  It would have a maximum of 100 building per hectare (2.47 acres).
There will also be space in this community for offices, hotels, and commercial units
The architect is aiming for maximum eco-friendliness but also want to make sure the buildings feel like a forest by mimicking the greenery of trees. "Detached and clustered tree-like houses are mixed with trees within an organic and compact layout. Car parking is kept at the fringes of the communities. By a short and delightful walk through a car-free park, people reach their home," he said.
These designs could be set up in already established cities creating a beautiful green feeling while reducing the carbon impact of the city.  They could also reduce the carbon emissions from cars by making the homes conveniently located within walking distance of a city center.
What is also incredible about De Hullu's plan is that he is working to eliminate individual land ownership and making his plan affordable to anyone.  They would be set up in a land trust based on the work of Henry George.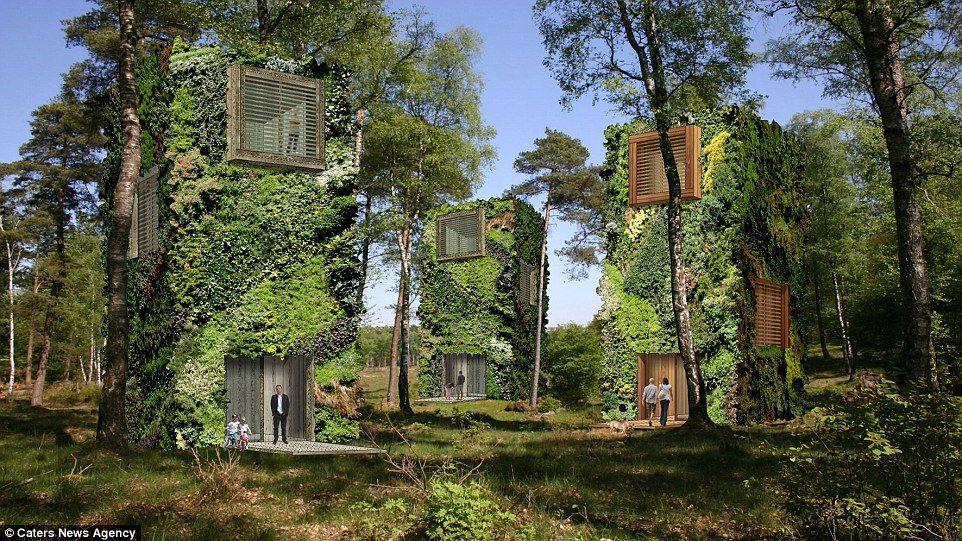 Without individual ownership of land, even lower and middle-income families could afford to purchase a home in the Urban forest.  This way, a community can effectively work and make decisions together.
Check out the video below to learn more about the project.
Reshare our content with appropriate credit:
- via
Woodz.co
(must include a link to the article)
- if it exists, give h/t (specified at the end of our articles)