New York Rustic Cabin In The Woods
In
Design
by Anja, May 28, 2016
This rustic cabin was built by Scott Newkirk, a fashion stylist and interior designer based in New York. He wanted a place to get away after a busy week and the result was this amazing off-grid cabin located in Yulan, NY. Despite its simplicity, it is perfect for a relaxing weekend.
Only 300 square feet in size without running water or electricity, it emphasizes the need to "switch off" from the busy life. There's no TV, and definitely no computer. It's truly off-grid, a complete disconnect from the hustle and bustle of the city.
Before building his beautifully finished cabin, Newkirk had been visiting the site and staying in a wood-frame tent. Unfortunately the wood-frame tent was burned down. Not one to be dismayed, Newkirk seized the opportunity to create a more permanent structure on the land.
After reading the 1973 eco-architecture book, Handmade Houses: A Guide to the Woodbutcher's Art, Newkirk was inspiring to create his own small, handcrafted house constructed from recovered and salvaged materials.
The cabin measures only 14-by-14 feet and took two years to complete
According to Newkirk it was difficult to find local builders that embraced his ideas concerning simple, eco-friendly construction: "I finally found a talented and dependable local guy, Craig Petrasek, to complete construction with reclaimed wood, extend the deck area, and build the stone patio."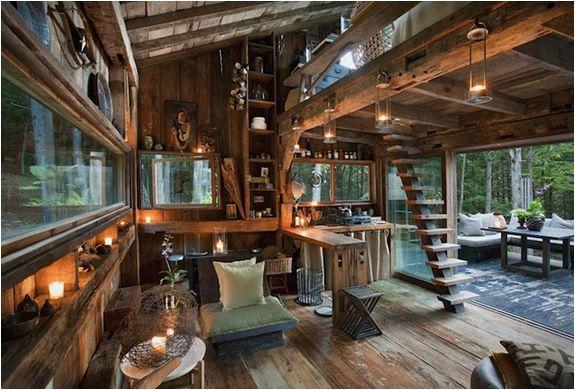 The cabin is constructed with a traditional post-and-beam frame. Several reclaimed elements have been incorporated, including old square-head nails that have been used to fast the exterior siding and floor. The side windows are handmade, whereas the large glass-panelled windows on the front are standard aluminium frames that have been clad in wood.
The completed project contains an outhouse, a guest house and an outdoor shower
From Newkirk: "The house reminds me of every fort I built in the woods as a kid growing up in Jackson, Mississippi." His parents visit every year and stay from July to October in another cabin that's also off-grid and without modern utilities. "I stress that, because they actually live off the grid full-time, and they are 75 years old. Being able to provide them with a getaway and spend time with them is pretty precious."
Newkirk then sold his cabin to Zach Klein, who named it Beaver Brook.
Photo credit: Dean Kaufman
H/T to humblehomes
Reshare our content with appropriate credit:
- via
Woodz.co
(must include a link to the article)
- if it exists, give h/t (specified at the end of our articles)