Miniature Tree Huts Built Around House Plants
In
Craft
by Emily, June 10, 2016
Tiny things usually make us all feel like a little kid and these detailed miniature tree huts will do exactly that. LA-based artist and prop builder Jedediah Corwyn Voltz created a range of miniature treehouses for succulents, cacti and bonsai trees.
Entitled 'Somewhere Small', the series began as a side project – a way of using scrap wood, fabrics and other materials left over from Voltz's building of miniatures for stop motion films. Now the project has taken on a life of its own, the artist states that he tries to "build structures that compliment the plant they're living in, and grow with them."
From tiny watchtowers to treetop meditation platforms and windmills
Hand-made pottery, rugs, furniture and sculptures, as well as semi-precious stones, complement the houses to create a tiny world in each plant. "This is my way of bringing my love of geology into my work just a little bit." Voltz says.
Each one takes anywhere from a few days to a few weeks to build. He has made almost 25 of them by now – from tiny watchtowers in secluded forests, to quiet treetop meditation platforms, and giant bustling windmills and waterwheels.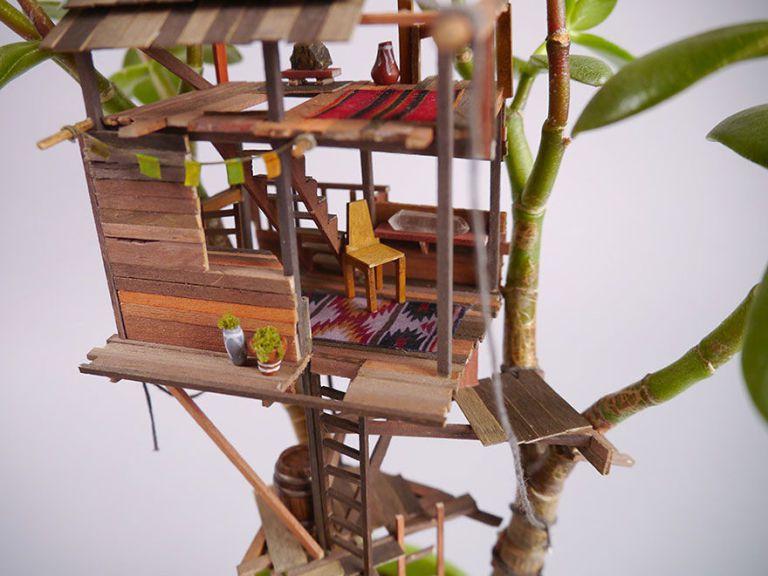 Photos © Jedediah Corwyn Voltz
H/T to ignant
Reshare our content with appropriate credit:
- via
Woodz.co
(must include a link to the article)
- if it exists, give h/t (specified at the end of our articles)