Highland Park Bowl – LA's Oldest Bowling Alley Restored
In
Design
by Robert, August 15, 2017
The historic Highland Park Bowl has been beautifully restored and now offers a prime destination for bowling, craft cocktails and wood-fired pizzas. Housed in a 1920s-era building, it continues the venue's history while also taking advantage of its rich history.
The place was revived by the 1933 Group that peeled away decades to reveal the original Spanish Revival aesthetic of Highland Park Bowl's 1927 facade and structure. During the year-long restoration and revamp, the current owners discovered a ton of unopened spirits from the 1970s that will help augment the cocktail program, while a wood-fired oven churns out Neapolitan-style pies.
There's also a live music venue, named Mr. T's Room after the former longtime owner, and an eight lane bowling alley that's backdropped by a huge mural that dates back to the 1930s and exposes the vintage Brunswick pin machines to help tie the area to the rest of the space's retro-industrial setting.
The design features elements of the buildings original Spanish Revival aesthetic with the addition of cool flourishes like repurposed pinsetters converted into chandeliers and vintage lockers showcasing recovered bowling trophies, photos and more.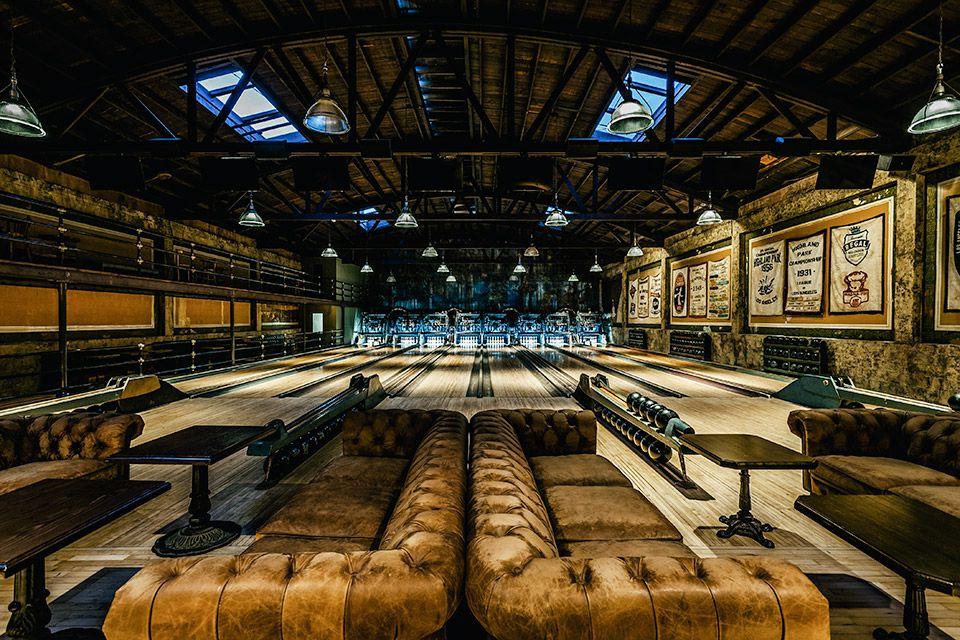 Photo credit: Wonho Frank Lee / Highland Park Bowl
Reshare our content with appropriate credit:
- via
Woodz.co
(must include a link to the article)
- if it exists, give h/t (specified at the end of our articles)